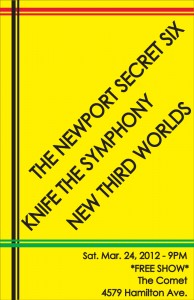 First off, Congratulations to Andy and his wife Amy on the birth of their daughter Mira! At barely a month old she's already learned all her chords and scales, majors and minors!
It has been a few months since KtS has last played, coincidentally along with the closing of the Southgate House. We are anxiously awaiting the announcement for the opening of their new venue, a new name has not yet been released but is undoubtedly in the works.
So, along with Spring comes new life and KtS is ready to get things rolling again. We have a few shows lined up this spring. Future road travels seem to be mapped out for the end of Summer. But in the meantime, keep an eye for a new recording we did back in November at Million Yen Studios, Chicago, with Jeff Dean(The Bomb, Noise by Numbers, Dead Ending) behind the board.
Here are some upcoming shows:
3/24 The Comet-Cincinnati, Oh
w/ New Third Worlds & The Newport Secret Six
5/18 The Chestnut House-Louisville, Ky
w/ Alcohol Party & Straight A's, tba
5/19 The Avenue-Covington, Ky
w/ Alcohol Party & Straight A's, tba
As always we'll keep you posted on any new developments with shows and releases along with any news about our fellow label mates and friends.